The F900i was officially available from today. As
previously
reported this is a phone for DoCoMo FOMA network. Key features include a 1.28 Megapixel camera for photos and video calling, a finger print scanner for security, and a Macromedia Flash player.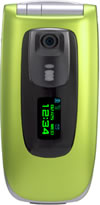 Press Release:
Symbian strengthens position in 3G market
FOMA F900i phone based on Symbian OS ships
London, United Kingdom – 5th February 2004 – Symbian Software Limited today announces Fujitsu Limited's latest 3G handset, the F900i is based on Symbian OS™. The F900i is one of NTT DoCoMo, Inc.'s new 3G FOMA i-mode™ handsets, the 900i series. The F900i is the fifth 3G phone based on Symbian OS and will start shipping tomorrow.
This announcement follows the recent Operator Technology Integrator agreement between Symbian and NTT DoCoMo signed in September 2003, which gave NTT DoCoMo access to Symbian OS source code and the right to deliver extended versions of this code to phone manufacturers that are Symbian OS licensees
(
http://www.symbian.com/press-office/2003/pr030926.html
). For handset vendors, adopting the industry standard Symbian OS technology, combined with NTT DoCoMo's FOMA technology based on W-CDMA, as well as technologies available from third party suppliers within the Symbian OS ecosystem, results in reduced phone development costs and accelerated time–to-market.
The features of the F900i include a CCD camera with 1.28 mega-pixel effective resolution and 1.23 mega-pixel recorded resolution, a fingerprint sensor for access security and synchronization with a PC. At approximately 480 hours of static standby time, the F900i offers approximately 55 percent more static standby time than the previous Symbian OS-based 3G FOMA phone by Fujitsu, the F2102V which had approximately 310 hours of static standby time.
David Levin, CEO, Symbian Ltd said:
"We are very pleased with the F900i, Fujitsu's latest 3G FOMA phone based on Symbian OS. The F900i is the result of a trusted partnership between Symbian, Fujitsu and NTT DoCoMo which aims to create highly differentiated, feature-rich mobile phones that run compelling third party applications, content and services."
Fujitsu continues to be at the forefront of the development of advanced mobile phones based on Symbian OS for 3G networks. Fujitsu is taking advantage of the growing benefits of Symbian OS as the industry standard platform for the creation of advanced and differentiated mobile technologies and applications, as well as compelling content and services. Using Symbian OS – an architecture specifically designed for advanced mobile phones – has enabled Fujitsu to undertake rapid and flexible product development to meet the specific needs of customers.
Based on Fujitsu's experience of developing with Symbian OS and NTT DoCoMo's specified platform technologies, the F900i includes the following features:
CCD camera with 1.28 mega-pixel effective resolution and 1.23 mega-pixel recorded resolution
Fingerprint sensor for access security
Connects to PC via optional USB cable to synchronize data such as calendars and contacts
Size, height x width x thickness (folded): 106 x 50 x 26 mm
Weight: approx. 120 grams
Continuous stand-by time: approx. 480 hours (static), approx. 360 hours (dynamic)
Continuous talk time: approx. 160 minutes
Continuous video calling: approx. 100 minutes
Main LCD: 2.2 inches; 262,144 colors; QVGA; TFT
Sub LCD: 1.0 inch; 3 colors; Organic EL LCD
External memory device: miniSD™ Memory Card
Colors: Lime Green; Silver; Navy
A comparison of this with other Symbian phones is availabler
here
.