Acces have announced the availability of a trial version of a new web browser for Series 60. The version to
download
is a time limited beta. Features include: 'Just-Fit' Rendering for small screens, comprehensive markup language support, JavaScript and CSS,Bookmarks, history, Cache, Cookies and SSL.
The browser is well known on other platforms. Now it is available on the Pocket PC platform. Pricing and final release date have not yet been settled.
Feature List:
* HTML4.01, XHTML1.0, cHTML (Compact HTML), XHTML Basic 1.0
* CSS (Cascading Style Sheet) 1, 2
* ECMA Script 3rd Edition (JavaScript 1.5)
* DOM (Document Object Model) 1, 2
* Various image formats: GIF/animated GIF, PNG, JPEG, BMP
* HTTP 1.0/1.1
* SSL2.0/3.0, TLS1.0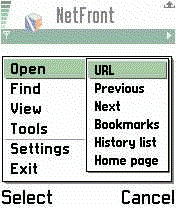 Thanks to
RusellB
for the heads up.
Press Release:
ACCESS' NetFront v3.0 Web Browser Available for Nokia's Smart Phones
Free evaluation Versions available for Nokia's Series 60 based smart phones and Nokia 9210 / 9210i Communicator
Tokyo, Japan / Fremont, CA, USA / Oberhausen, Germany - February 17, 2003 - ACCESS (Tokyo Stock Exchange: 4813), a leading supplier of embedded software for mobile telephones, PDAs, internet appliances, car navigation systems and other non-PC devices, today released NetFront TM v3.0, ACCESS' latest version of its NetFront web browser, for Nokia smart phones aimed toward operators, enterprise users and end users.
The evaluation version for Nokia smart phones based on the Series 60 Platform and the Nokia 9210/9210i Communicator will be available for free download at the following web site (http://www.access-sys-eu.com) beginning of February 18, 2003. This web site is operated by ACCESS Systems Europe GmbH, the German subsidiary of ACCESS Co., Ltd
NetFront v3.0 for Nokia's Series 60 phones and communicators features numerous functions of convenience to handset users, including "Multi-window" functions, "Page Store", "Just Fit Rendering", as well as "Zoom" allowing multiple zoom levels. Additionally, NetFront v3.0 for Symbian based smart phone supports SVG, SMIL, and MP3 as options. Furthermore, ACCESS has participated in the Symbian Platinum Program since April 2002
"The Series 60 Platform and Symbian OS utilize open standards and technologies, thus they provide an excellent base for companies, such as ACCESS, to develop and offer advanced applications," said Jukka Riivari, Director, Nokia Mobile Software
"ACCESS supports handset vendors, operators and enterprise customers to exploit the great opportunities of an advanced browser on a flexible open platform like Symbian OS and Series 60 Platform," said Toru Arakawa, President and CEO, ACCESS Co., Ltd, "With our easy to customize client software and our open standards based Web services system, we are ready to provide a total solution for the efficient deployment of Mobile Internet services."
The NetFront suite of browser technologies is embedded in almost 80 million devices spanning 191 different product lines including PDAs, game consoles, digital cameras, digital televisions, and mobile phones, including NTT DoCoMo's handsets for i-mode world-wide as well as FOMA, NTTDoCoMo's 3G service. ACCESS' NetFront v3.0 browser conforms to the latest W3C (World Wide Web Consortium) standards including CSS (Cascading Style Sheets), DHTML (Dynamic HTML) and also to the WAP 2.0 specification, which enables resource constrained, non-PC hardware to browse the Internet. PDAs, including Zaurus SL-A300 / B500 / C700 produced by Sharp and CLIE PEG-NX70V / NX60 / NZ90 produced by Sony also have ACCESS browsers pre-installed. ACCESS has also commenced online sales of Netfront v3.0 for PocketPC Japanese language version for Pocket PC individual users on November 25, 2002. (The English language version of NetFront v3.0 for PocketPC has been available from "Handango" since December, 2002) Additionally, ACCESS provided its core browser technology based on NetFront v3.0 to Palm Source Inc. for their Palm OS(R) 5 browser
* Cookie support