Review:
ProfiMail
Score:
70%
For the occasional email user, the built in application is going to be more than sufficient. Heavy duty users – be that people who use email a lot when away from their desktop, or people who get hundreds of emails a day and need to find out which five aren't spam – will find ProfiMail a useful addition to their smartphone.
Version Reviewed: 2.19
Buy Link | Download / Information Link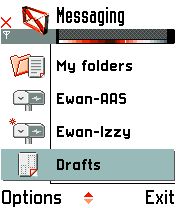 Hold on a minute, I've already got an email program on my phone, why would I need another one, let alone one that I need to buy? That's a good question, so let's start with what's not to like about the built in 'messaging' application in Series 60.
Firstly, it's a text based email reader – and while I personally wish everyone in the world would stick with plain text emails, that's never going to happen when you can hide spam links in innocent "update your Bank Account login details please" emails. It does mean that a fair number of emails that I receive need me to mentally strip the HTML from the mail with my eyes so I can see what's going on.
There's also the font and display issue. By staying with the UI look that the rest of Series 60 has, the biggest problem of email (spam) directly hits the usability of a built in application. When I get 50 or so emails at a time, having only 3 of these show on the screen at any one time severely limits the ability of using Series 60 email professionally.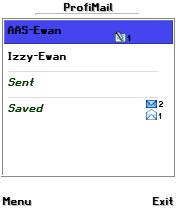 So here comes Lonely Cat Games with ProfiMail, (which isn't actually a game) for the three major Symbian platforms, Series 80, Series 60 and UIQ. We're reviewing primarily the Series 60 version here, although all the features are consistent over the three major versions. Installing the package actually gives you two applications, ProfiMail and ProfiExplorer (a freeware file manager). Certainly on the Series 60, without a pre-installed File Manager, makes this a useful (and necessary) addition if you've not grabbed any of the other File Manager apps.
But we're here to discuss ProfiMail. Let's start with the user interface. Lonely Cat Games have made one very important design decision, which is to ditch making the ProfiMail look like a Series 60 application, throw the style guide out the window, and make sure that the app works primarily as an email application, rather than fit in with the phone.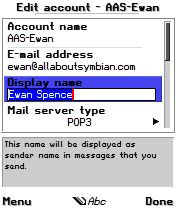 So here we have a much smaller font than what we're used to in a Series 60 application, which consequently means much more information can be displayed on the screen. This simple change opens up the application and makes email on Series 60 usable again.
Setting Up
Of course, any email program is going to involve a fair number of dialog boxes to enter information in. ProfiMail is no different here, but now that there's more 'effective' lines of text on the screen they have a 'help box' which explains what each dialog is asking for. If you rarely set up new email accounts, then this is pretty useful, and also shows that a lot of though has been put into who the end-user will be interacting with the application. It's nice to see the wealth of advanced options available (including choice of ports to use, SSL, secure POP3 login and SMTP authorisation), it's also nice to see that it's hidden away under a simple 'advanced' choice that most mere mortal should never need to dive into.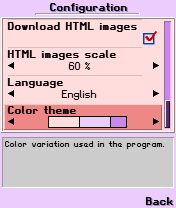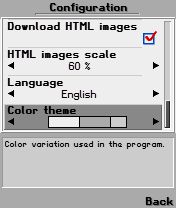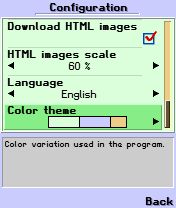 You've also got option to change the font used from "normal" to "small." Normal of course is normal in this application. So super small is like an 8x8-pixel font (i.e. really tiny) and crams in so much onto the screen that anyone over the age of about 25 is going to get a migraine reading their mail. Finally on the looks stake, you get to choose the colour palette from the background. I settled on the rather pedestrian black/grey/white combination. You have to choose from the mix options available, you can't define your own, but there's a large enough number that I think you'll all find one you like in here.
Sending and Receiving Mail
Your main screen shows your defined email boxes on the top, with Sent mail and Saved mail boxes displayed underneath. Alongside each line, you have two icons giving you an overview of what is in the box, what have been read/sent or still need to be sent. It's very informative, and again it this app all seems to be about giving you the most amount of information possible on one screen.
Inside the mailboxes (your accounts) you get the email sender and subject displayed, along with a size and timestamp. The preview box on the bottom third lets you see the contents of the email if it has been downloaded onto your machine, and you can scroll this by going left and right on your cursor.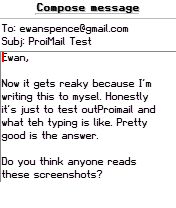 Writing email gives you just as much screen real estate to work in – and while it's possible to work with T9 and the ABC keyboard for short emails, I still can't see people writing decent length replies on Series 60 without using a bluetooth keyboard. But with a keyboard, I'd be more than happy with this as my main email client for writing if I went away for a long weekend.
Rules and Filters
Now this is where ProfiMail really scores. Rather than the download everything and check it by eye (which the built in mail app makes you really good at), ProfiMail allows you to set up rules that are checked before an email is even downloaded from your server.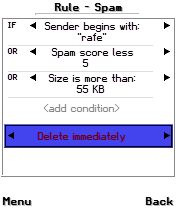 These rules are compared to each email in turn, and you can check a wide range of email items, from the size of the mail, to the sender to anything in the subject field. You can compare these to text strings (with wildcards) or conditions (e.g. no mail larger than 55K is to be downloaded). It will take time to set up all your rules, and a browsing of the extensive online manual will show just how flexible these rules can be (http://www.lonelycatgames.com/mobile/profimail/manual/index.html)
System Admins and general server hackers will be pleased to see that one of the rules will take into account the 'spam score' awarded by the server-based program Spam Assassin. Again., something regular end users won't need, but a large organisation or 'power' user will be very familiar with.
Other Stuff
There's a few other goodies tucked away under the hood of ProfiMail. I've already discussed the File Manager which integrates into ProfiMail for browsing files and managing attachments, but there's also a built in image viewer which provides an alternative to the built in Series 60 imaging application. It's an equal to that, nothing stunningly new or useful that would make you choose one over the other.
While there's no 'push' email support, you can set up ProfiMail to automatically connect to the internet and check your email at regular timed intervals, or at fixed points each day. It's more useful than you think, and coupled with the rules, you know you're not going to get hit by downloading a huge amount of spam.
Summary
For the occasional email user, the built in application is going to be more than sufficient. Heavy duty users – be that people who use email a lot when away from their desktop, or people who get hundreds of emails a day and need to find out which five aren't spam – will find ProfiMail a useful addition to their smartphone. At $22, it's not the cheapest of Symbian applications, but you can see the time spent on making it a good application, so this price is pretty reasonable.
If you need another email application, it's certainly worth a look.
---
Reviewed by Ewan Spence at